There is no translation available.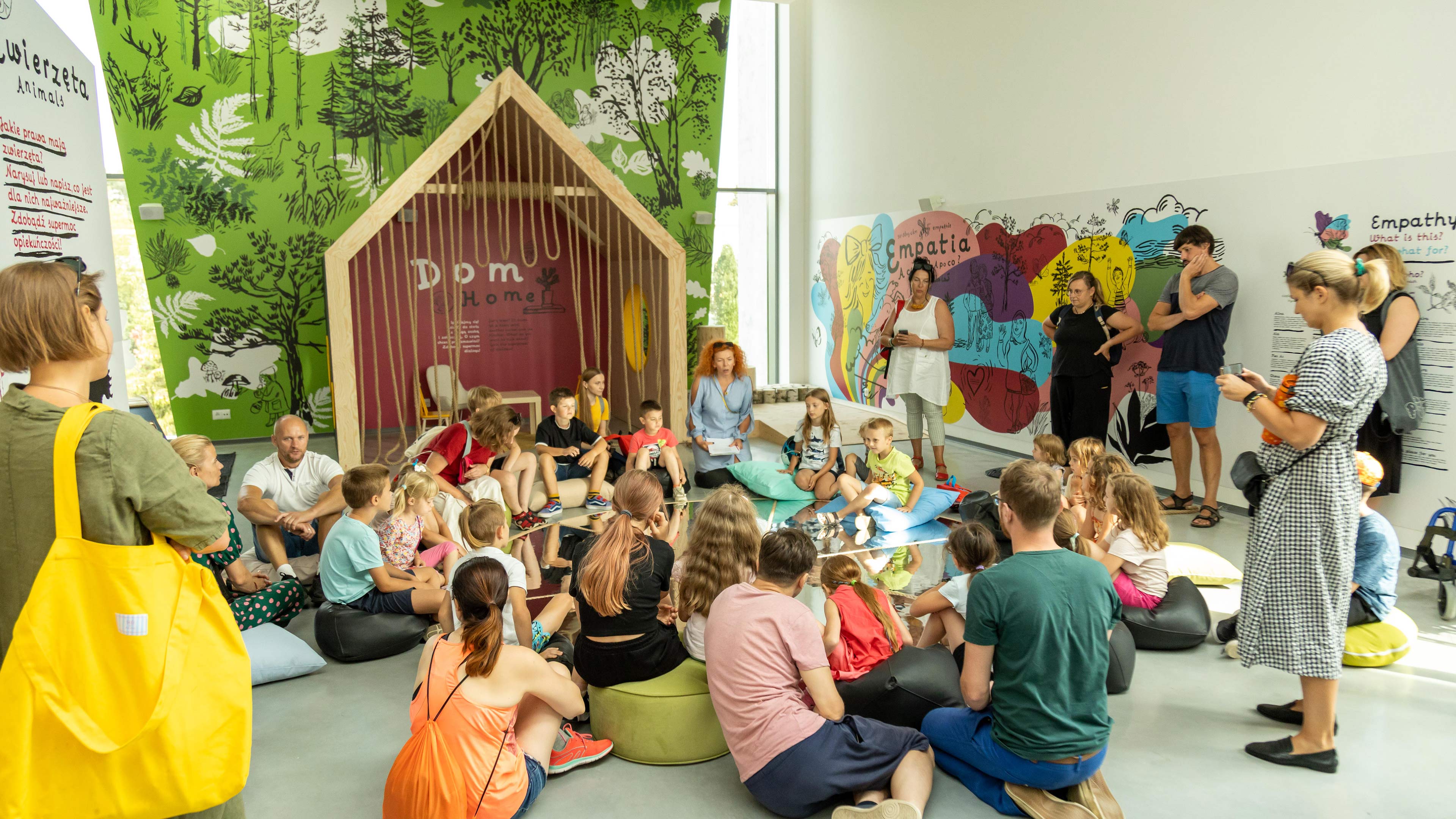 Czy wiecie, że w Centrum Dialogu pojawili się nowi mieszkańcy i specjalna przestrzeń dla dzieci oraz bliskich im dorosłych? Zapraszamy Was na wystawę "Elementarz empatii". Spotkacie tam m.in. Alę z psem Asem. Opowie ona o Alinie Margolis-Edelman – lekarce, przyjaciółce dzieci, superbohaterce, która pomagała ludziom na całym świecie. Jej mocą była empatia.
Ale co to jest empatia? I po co? Trudno dowiedzieć się tego z podręczników. Dlatego – by zbadać tę supermoc – wraz z Alą zabierzemy Was na wyjątkowy plac zabaw. Stworzymy tam przestrzeń do przyglądania się sobie i swoim emocjom. Będziemy pytać o postawy empatyczne: wobec tych, o których myślimy "inni", wobec zwierząt i natury. Będziemy inspirować do zabawy i refleksji na temat empatii w domu, na placu zabaw, ulicy, w lesie, w mieście i na wsi.
Wystawa "Elementarz empatii" to opowieść o tym, że nasza postawa na co dzień ma wpływ na relacje i rozwój człowieka. O tym, że każdy z nas może zdobyć supermoc empatii i na swój sposób zmieniać świat na lepsze.
Wystawa powstała w ramach obchodów ROKU ALINY MARGOLIS-EDELMAN. Wernisaż odbył się 15 października 2022 roku.
Wystawa nie ma ograniczeń wiekowych, rekomendujemy ją dzieciom od 5 do 10 lat.
Wystawa jest czynna w godzinach pracy Centrum Dialogu z wyjątkiem dni, w których na wystawie odbywają się zajęcia edukacyjne (informacja o harmonogramie zajęć znajduje się na stronie KALENDARZ WYDARZEŃ).
Wejście na wystawę jest bezpłatne. Obowiązuje zmiana obuwia.
Prosimy o zapoznanie się z regulaminem uczestnictwa w wystawie "Elementarz empatii"
Wystawie towarzyszy rozbudowany pogram edukacyjny – warsztaty i spotkania rodzinne, warsztaty dla grup zorganizowanych (przedszkolnych i wczesnoszkolnych) oraz rozwojowe spotkania dla dorosłych.
Twórcy wystawy:
Kuratorki: Kamila Majchrzycka-Szymańska, Anna Mrozińska-Szmajda, Aleksandra Shaya
Ilustracje: Aleksandra Cieślak
Projekt: Teren Studio
Opieka merytoryczna: Joanna Podoslka-Płocka
Partnerzy: Fundacja Dajemy Dzieciom Siłę, Good Wood, Kokodyl, Ortomedis, Sunride Medical, Forbo
Patronat honorowy: Ambasada Francji, Muzeum POLIN
Matronat medialny: Kosmos dla dziewczynek

Dofinansowano ze środków Ministra Kultury i Dziedzictwa Narodowego pochodzących z Funduszu Promocji Kultury.
Zadanie jest współfinansowane z dotacji Miasta Łodzi.
---