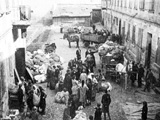 "There are no Jewish cities left in Poland, there is no one left, [...] blood covered with sand and traces removed [...]" – Antoni Slonimski wrote in his poem "Jewish Cities Elegy". During the Holocaust 3.5 million members of Jewish diaspora – one of the largest in the world vanished from the surface of the earth. The Shoah annihilated whole Jewish communities that had been deep-rooted in Polish soil for centuries and thwarted the output of many generations of Shtetl citizens.
The Institute of National Memory (Instytut Pamięci Narodowej – Komisja Ścigania Zbrodni przeciwko Narodowi Polskiemu) and the Museum of Independence Traditions (Muzeum Tradycji Niepodległościowych) are honored to invite the audience to the opening of an exhibition at Gdanska 13 at 1 PM on the 24th of August 2009. It is dedicated to the tragedy of Shtetls' final days.

Jews played a major role in the economic and cultural development of the region. They also participated in its political life. Many prominent artists, writers, social and political leaders were born in Lodz.

From the beginning of occupation Jews became subject to Nazi persecution. They were beaten, humiliated and murdered. Their shops and houses were robbed and destroyed and the synagogues were burnt down. The Germans started to introduce anti-Jewish laws as early as the Autumn of 1939. It resulted in their isolation and ultimately in their physical extermination. Initially ghettos were established in the Lodz region: in October 1939 in Piotrkow Trybunalski (the first ghetto in occupied Poland was established) and in February 1940 in Lodz – renamed to Litzmannstadt by the Germans. The Litzmannstadt Ghetto was the second largest in Poland. The Germans also established the first death camp in Kulmhof am Ner (Chelmno nad Nerem). A majority of the Jewish residents from Lodz region were murdered in Kulmhof, Auschwitz and Treblinka death camps. Litzmannstadt Ghetto - the last remaining Jewish community in the region was liquidated in August 1944. Post-war conditions forced or voluntary migrations of Jewish survivors left Poland an ethnically homogeneous country. Apart from Lodz there is no organized Jewish minority in the region. The one that is left is substantially smaller then the pre-war one. Aging Jewish cemeteries, memorials and plaques commemorating the Holocaust are the only visible signs of centuries-long Jewish existence in Poland.